Information is in rapidly increase in almost all research and application areas nowadays. The problems of managing and processing information becomes increasingly difficult and important. The conference aims to provide a premium forum for researchers and innovators in information science and its applications. This conference is committed to fostering the exchange of ideas in research questions, and providing prime networking opportunities for international researchers. Discussions during the plenary sessions and presentations as well workshops will effectively make substantive knowledge and idea exchange for participants. I believe that ICIMP conference provides an excellent opportunity to meet experts in information processing, retrieve and management.
We are looking forward to meeting you at this momentous occasion to discuss research and challenges in Portsmouth! 
Best Regards,
Hui Yu, University of Portsmouth, UK
General Conference Chair
Welcome to ICIMP 2021
June 10-12, 2021 | Portsmouth, UK

Supported by


Welcome to ICIMP 2021
You are invited to 2021 The 4th International Conference on Information Management and Processing which will be held during June 10-12, 2021 in Portsmouth, United Kingdom.
ICIMP is the conference aimed at presenting current research about Information Management and Processing. The idea of the conference is for the scientists, scholars, engineers and students from the Universities all around the world and the industry to present ongoing research activities, and hence to foster research relations between the Universities and the industry. This conference provides opportunities for the delegates to exchange new ideas and application experiences face to face, to establish business or research relations and to find global partners for future collaboration.

Paper Publication
All the accepted papers will be included in International Conference Proceedings, and submitted to EI Compendex and Scopus.
ICIMP 2021 welcomes author submission of papers concerning any branch of the Information Management and Processing. The subjects coveres information representation, classification, extraction, filtering and summarization; Management of information resources, services, systems and networks, and digital libraries; Basic and applied research in information science, More topics,
English is the official language of the conference. We welcome paper submissions. Prospective authors are invited to submit full (and original research) papers (which is NOT submitted or published or under consideration anywhere in other conferences/journal)
Expert Systems Journal- Special Issue


ICIMP 2021 has arranged special issue with journal to publish an extended version of the conference's most top conference papers, at least 30% of a new content based on the original proceedings paper.
Special Issue: Intelligent Visual Systems for the Cyber-Physical World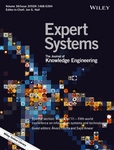 Impact factor:1.505
Online ISSN:1468-0394

ISI Journal Citation Reports © Ranking: 2018:89/133 (Computer Science, Artificial Intelligence)
49/104 (Computer Science, Theory & Methods)



Latest News
Welcome to 2021 The 4th International Conference on Information Management and Processing to be held during June 10-12, 2021 in Portsmouth, United Kingdom. Hope we will meet again in Portsmouth! 

(Read More)